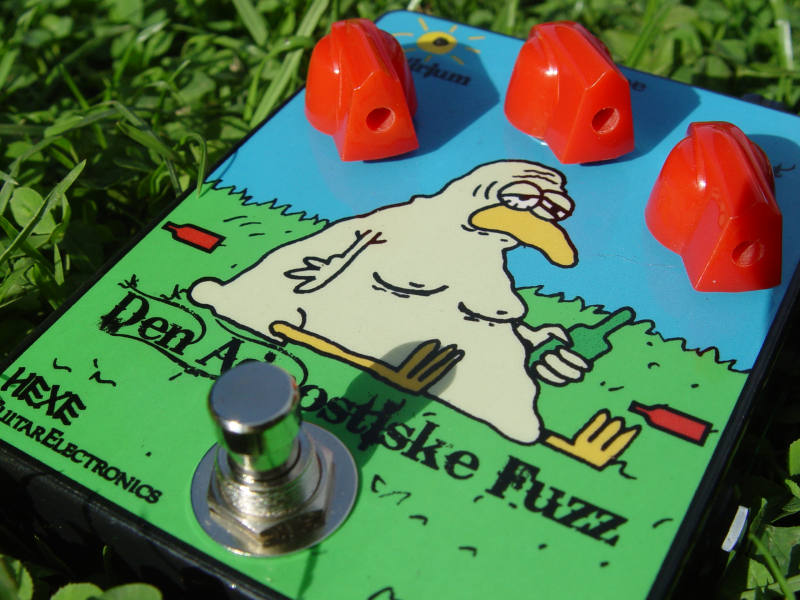 ... in Danish, or directly translated The Agnostic Fuzz is a new custom designed and build pedal and a result of cooperation with Danish film makers Wiredfly
The Agnostic Chicken (Den Agnostiske Kylling) is a character created by the Wiredfly team. Due to his physical attributes (mainly the total mass), the chicken's mobility is seriously limited. Nevertheless, he can't complain about the lack of adventures and there's always that bottle of cold beer around... ;)
Controls:
Sprut - "fuzziness",
Kvalme - random vibrato Depth, at zero the vibrato modulation is switched off and the pedal works as a pure fuzz,
Delirium - output volume,
Tone - placed on the front side of the pedal.
Demo videos / Sound Samples:
Concept:
The pedal itself is an attempt to reflect the Agnostic Chicken's character in a more musical and engineering manner. After some thinking we came to the conclusion, that a fuzz pedal combined with vibrato would be a good choice. There are two main parts in this device:
Fuzz - based on Russian NOS germanium transistors,
Vibrato - a new original design. The vibrato part is purely random, the speed is controlled using a random number generator and an onboard temperature sensor. The random numbers make the vibrato to speed up or slow down in an unpredictable manner, the temp sensor has its influence on the speed, too. On hot days the speed will be higher, on cold - on the contrary.