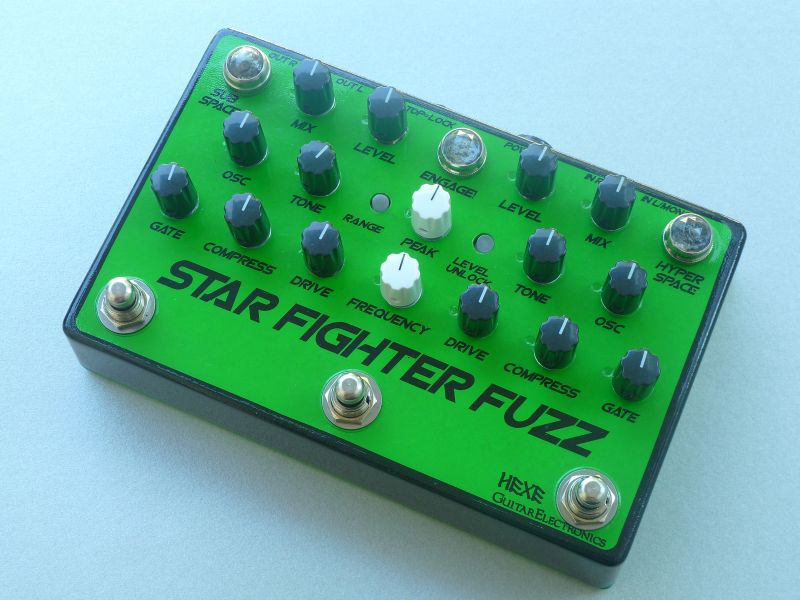 Stereo dual band germanium fuzz/oscillator pedal
HEXE Star Fighter Fuzz is a stereo dual band germanium fuzz pedal designed mainly for use with synths. This pedal is a result of cooperation with Thom Powers and "The Naked and Famous" band, it was designed to be an ultra versatile harmonics and texture self oscillating (if required) generator.
A further developed model of that pedal: Šila Fuzz

StarFighter Fuzz was designed and built as a custom one off device.
Crossover:
Frequency - frequency at which the signal is split in two eparate bands.
Peak - resonance of the crossover filters. Self oscillation at the max setting.
Range - switch, frequency range of the crossover section: 20-250Hz and 250Hz-12kHz.
---
Fuzz (two sections for Hi and Lo band):
Fuzz - gain control. At 0% the input signal is muted allowing fuzz self oscillation.
Compress - fuzz compression controls, affects the harmonic content.
Gate - gate threshold.
Osc - positive feedback control, fuzz oscillation.
Tone - lowpass tone control.
---
Output mixer:
Mix - dry/wet mix ratio.
Level - channel output volume.
Level Unlock - switch locking up or unlocking the Volume setting.
---
Footwitches:
Right/HyperSpace - high band fuzz bypass.
Left/SubSpace - low band fuzz bypass.
Middle - master stere true bypass.
Input crossover:
A stereo input signal is split in two separate high and low bands using a tunable resonant filters. The corner frequency range is from 20Hz to 12kHz, split in two ranges: 20Hz - 250Hz bass one and 250Hz - 12kHz mid/high range. The resonance of the filters can go up even to self oscillation, making the crossover part one of a few available oscillation sources on the pedal.
Fuzz:
Being a dual band stereo fuzz, the StarFigher consist of four fuzz circuits in total. Despite the control naming, similar to a popular fuzz pedal, the fuzz design is not a clone, but of my own design and it crackles only if required.Drive knob controls the amplitude of the signal going into the fuzz section. When set to minimum, the input signal is cut off, thus making it possible to use the pedal as oscillator only.
---
Output Mixer:
Both channels are equipped with dry/wet mixers and an output volume controller.
Technical info:
Bypass: true, relay based
Input impedance: 1M
Output impedance: &lt 1k
9V DC, 150mA power, regulated adapter only. 5.5/2.1mm center negative plug.
Demo videos / Sound Samples: