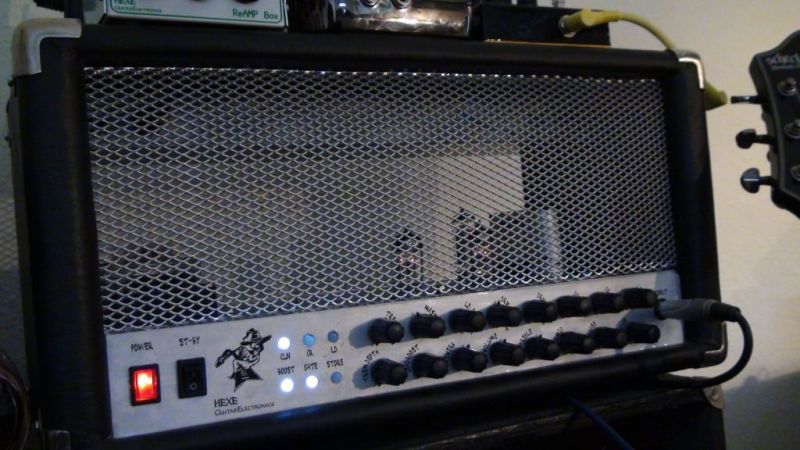 4W 3 channel guitar tube amp...
... specially designed to fit into a small homerecording studio. Also a field for experiments with different ideas i gathered over the years.
Features:
three channels: Clean, Crunch and Lead,
overdrive channels have common tone regulators,
Solo volume and mid boost for Lead channel,
4W single ended tube power amplifier based on military grade 6P1P-EV beam tetrode,
spring reverberation unit,
serial-parallel effect loop with MIX control,
LDR based tremolo effect built in (Rate, Depth, when Depth is at zero the effect is bypassed),
built in noise gate with Threshold control,
MIDI interface built in, the storable parameters are:

channel type,
Solo Boost On/Off.
Noise Gate On/Off,
Depth and Rate of the Tremolo effect,
Reverb level,

dummy load for power output and silent recording,
balanced line out with Level regulator,
4, 8, 16 ohm speaker outputs. Switchable 20dB power pad on 8ohm output.
Preamp section uses three dual triodes and is equipped with a filament switch allowing to use the Russian 6N2PEV triodes or the ECC8x/12AX7 series.
The solid state parts are used because of their low impedance outputs to drive the effect loop, line output and reverb tank.
Digital electronics is used to control all the functions and to communicate with the external world via midi interface. In other words, i'm following my motto: "take the best from the all available techniques and use them well" :). The controller part is based on ATMEGA microcontroller, the Reverb level is digitally controled with a PGA2310 volume controller chip. Relays, opto-fets (H11Fx) and LED+LDR combos are used as a signal switching elements.
---
Building process gallery:
Demo videos / Sound Samples: