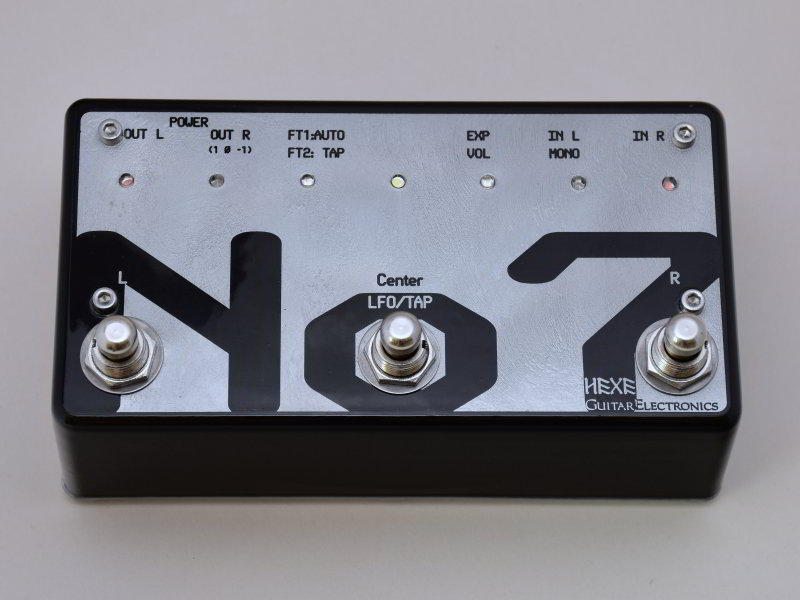 Stereo Splitter/Panner/Volume Controller
A practical signal routing solution for stereo live looping setups : foot operated panorama and volume controller with modulation capabilities. One transformer isolated output with phase flip switch ensures hum-free operation in dual amp setups.
Footswitches:
Left:

Short click - panorama: one step left.
Long press - jump directly to max left.
Hold Down (momentary) - in Autopan mode: speed up 4 times.

Right:

Short click - panorama: one step right.
Long press - jump directly to max right.
Hold Down (momentary) - in Autopan mode: slow down 2 times.

Center in normal mode:

Short click - sets the pan to center.
Long press - starts the autopanner.

Center in Autopan mode:

Short click - tap tempo.
Long press - stops the autopanner.
---
External dual footswitch:
Stereo TRS jack, momentary type.
TIP: Autopanner on/off.
RING: Autopanner tap tempo.
---
Expression pedal input:
Stereo TRS jack.
Linear taper 10k-47k value.
Controls master volume level.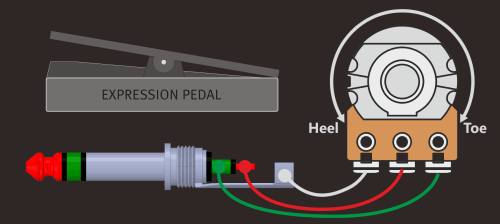 Operation:
No7 will take a mono or stereo input signal (splitting the mono into stereo), run it through a pair of low noise high quality buffers and a digitally controlled stereo volume controller. The Right output will be then transformer isolated to break any ground loops in dual amp setups. If there is a phase mismatch between the channels, the phase flip switch can be used to correct it.
In total, there are 13 available panorama steps with center, max left and max right positions accessible directly via the footswitches. A LED bar shows the actual panorama setting.
Expression pedal, when plugged in, controls the master volume for both channels. When moved, the LED bar will switch from displaying panorama to volume setting for a short period of time.
---
A typical scenario in dual amp setup: mono or stereo signal coming out from the FX section is run through the No7, which gives a hands free panorama and volume control (via an expression pedal).
---
Live looping application, where No7 will help to get the most of stereo loopers providing foot controlled panorama and volume settings with clear visual feedback.
---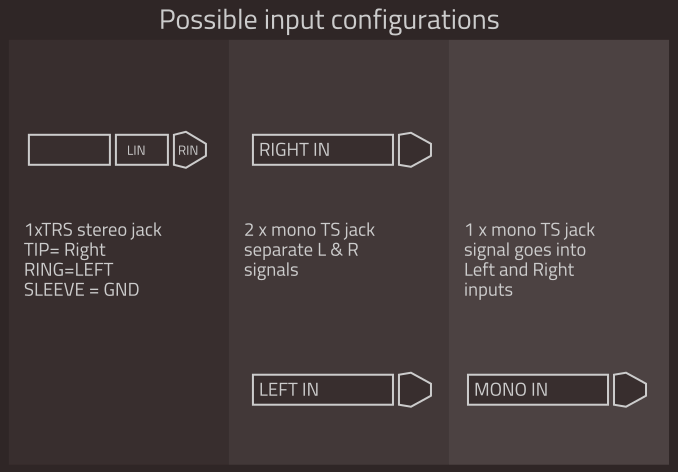 ---
Autopanner:
Holding down the Center footswitch will activate the auto panning function. The Speed is set by tapping the footswitch. While in Autopan mode, the Left and Right footswitches have the following functions:
Left footswitch: press once to slow down the modulation 2 times, press again to switch back to original speed (latching operation).
Right footswitch: press once to speed up the modulation 4 times, press again to switch back to original speed (latching operation).
Tapped tempo is averaged over the following presses. The more taps, the more precise the timing will be.
Autopanner can be switched off by holding down the Center footswitch.
---
External dual footswitch:
An optional, dual momentary type footswitch can be used for easier access to the autopanner function.
If plugged in, the external footswitch performs the following actions:
Switch 1 (Jack Tip): tap tempo.
Switch 2 (Jack Ring): autopanner on/off.
Since the tap tempo function would be doubled, the Center footswitch on the pedal can be used to pause/resume the autopanner at any point.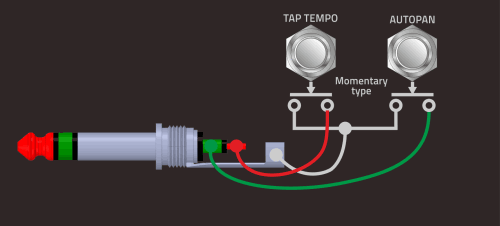 Please note, that only dual footswitches equipped with momentary type switches and a TRS jack are compatible with the pedal. Plugging a single footswitch with a mono TS jack will not damage the pedal, however the autopanner function will be blocked.
Technical info:
Mono/Stereo Input, Stereo output
Input impedance: 1M
Output impedance: &lt 1k
9V DC, 45mA power, regulated adapter only. 5.5/2.1mm center negative plug.
Demo videos / Sound Samples:
Demo showing the prototype of the pedal built back in 2014:
Story:
Ever since i started using a compact stereo looper pedal, there was something missing in my setup. I wanted a kind of device that will function as a Pan knob and a Fader on a mixing desk, but foot operated and with a clear visual feedback about the current settings. Being able to freely move the loops in panorama, easily adjust layer's volume before recording really expands the live looping possibilities.
While being an active signal splitter/panner i decided to add a transformer isolation on one of the outputs to help solve ground loop problems with dual amp setups.
---
The first prototype, built in 2014, had only one mono input and no external footswitch option. After using it for awhile i came up with a few upgrades making the device even more versatile, yet still very easy to use.