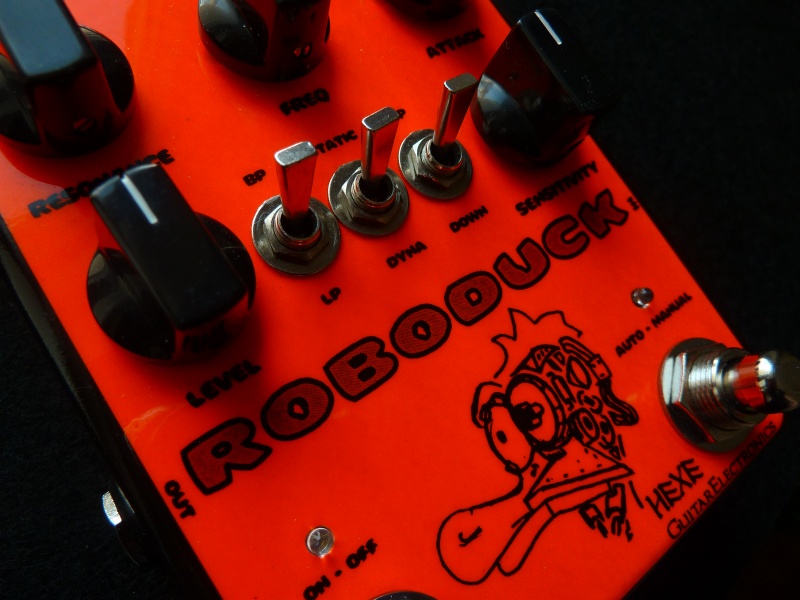 Version III. Classic Wah/Auto Wah pedal generator pedal.
Featuring two types of the filter: bandpass or lowpass, auto and manual sweep modes and adjustable frequency range.
Controls:
SENSITIVITY
ATTACK
FREQUENCY: moves up/down the range of the filter.
RESONANCE: filter peak.
LEVEL: output volume control.
LP/BP: (toggle switch) filter type: lowpass or bandpass.
STATIC/DYNA: (toggle switch) Resonance parameter can be set with the knob or can be controlled by the envelope curve.
UP/DOWN: (toogle switch) filter sweep direction.
---
Footswitches:
ON-OFF: true bypass.
AUTO-MANUAL: switches between autowah and manual wah (using an expression pedal) mode.
---
Expression pedal input:
Pedal accepts only an analog type passive expression pedals. Internal trimpots are used to set the top and bottom limits of the frequency sweep.
Technical info:
1M input impedance,
below 1k output impedance,
9V DC, 50mA power, regulated adapter only. 5.5/2.1mm center negative plug.
Demo videos / Sound Samples:
---